Articles
Creating Flash Contents for the User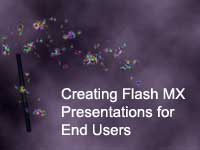 August 12, 2003
Recently, on a message board, a few Flash MX designers were complaining about the limit of the application when handling video files. Flash MX starts to have problems using video files larger than three mbs. The sound synchronization starts to fall apart and the movie may jerk during the playback. According to the users, this flaw stopped them from expressing themselves and creating their project.
One designer wanted to use a 30-mb video file in a Flash MX presentation. For Toon Doctor, the first flaw, was thinking that Flash MX is a toy for designers and developers. Contents created in Flash MX are before anything you may want it to be, a tool used to communicate with your audience.
Here's a simple fact that one of the Flash MX designers, discussing the limits of the program fail to ignore. Few of the people can view a 30-mb presentation containing a video file within a Flash MX movie, whether Flash MX could integrate them easily or not. Even with a highspeed Internet connection, a 30-mb file takes several minutes to download.
If one adds a Flash interface and other contents on top of that movie, it will be larger. One must assume that the designer wants the movie to play at once on the user's system and not partly. This requirement limits the number of users who meet the criteria. Now, given the way Macromedia has designed the Flash Player, the user's system will probably hang. This is not good.
The real question therefore is who, are Flash MX designers developing for? Is it for them or others? If it's for them, then one can complain at lengths about the limits of Flash MX, as the program will never meet all the needs of all creators. There are also no limits on the type of contents one produces, since it is not meant to be shared with others.
However, when one designs Flash MX contents for others, before looking at one's needs and preferences, one should always look at the end users. The first thing to worry about is the interface. Will users see buttons where there are placed? Does the groove factor of the design overpower the usability? A good test is always to ask a non designer to test the project.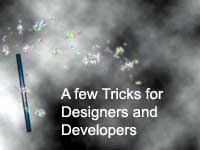 The other thing to worry about is the size of the final file and how much time it will take to download, using the lowest common denominator Internet connection. Assume your user still uses a 28-kpb modem. Only designers and developers have the best the computer systems possible with lots of memory.
Most people are also afraid to update their Flash Players. What can be done to satisfy them? This is a tricky question. There are several advantages to the latest Flash Players. Some also have bug corrections. There are no set rules, but at Toon Doctor, critical information is not exported in the latest Flash Player's version. However, contents which user actively sought are.
If the end user really wants to see your Flash MX presentation in which it will download the latest Player plug. If you want to attract them and stay, make it friendly for them. By the way, it's ok to export all your projects in the for the Flash Player's version six now. It's been there for over a year. However, even if your end user actively seeks contents from your Web site, make it user friendly.
An important requirement often forgotten by designers, is the quality of any text the user reads in a Flash MX presentation. A feature of Flash MX, is that static type softens with an anti-aliasing effect. Anti-aliasing melts an element's edges with its background and surrounding elements with blur. Although it may help soften the look of type, the anti-aliasing may cause the type to be too blurry on a screen.
Type that is not read at the right size, may be further anti-aliased. Often, using dynamic type improves the situation. There is no anti-aliasing in dynamic texts. Another common problem with type is including backgrounds that reduce the efficacy of the type. Your text should not compete with the background for the viewer's attention. Both should help each other attract the viewer to your work.
Sometimes, even expert designers and developers get carried away. Often, it's your client. In any case, always remind yourself, and your client that the ultimate goal is to please visitors and not your own ego. A beautiful Web site is useless, if people won't come and visit. The best thing, is that you don't have to get it right the first time. Look around and come back next month, and you'll see that we've improved things too.
Coolstreak Cartoons Inc.
Copyright ® 2003. Use of material in this document®including reproduction, modification, distribution, electronic transmission or republication®without prior written permission is strictly prohibited.