Articles
Video Editing In Macromedia Flash MX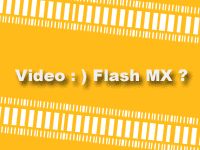 July 27, 2003
Though Flash MX is more known for its Web programming and animation capabilities, it is nonetheless a very solid video editing tool. Because Flash emulates many functions found in traditional video editing and motion graphics programs, for long, many developers and designers have wanted to use the vector graphics program with video.
However, video for Flash MX can be tricky. Flash handles videos, but not as efficiently as big brother Macromedia Director. Flash MX is also based on vector graphics. Videos are usually bitmap-based. There are severe limits to what one can do with video in Flash MX. Given all those obstacles, why do designers continue to try video editing with Macromedia Flash MX?
First, designers are always pushing the envelope of what's being done with any technology. It is their nature. For example, at Toon Doctor, we'll soon release a complete course on traditional cartoon animation with Flash. We believe our approach can help designers achieve any results attained in traditional cartoon animation software.
Second, Flash MX has become many designers' tool of choice, and the possibility of doing all of one's work within one application is very attractive. Third, when one masters the intricacies of Flash MX, one can create great contents with the program.
The first thing to understand when using video in Macromedia Flash MX, is that although it is not the most optimized program for that. Macromedia Flash MX was created for light Web-based contents distributed on the Internet. Video is by default, always a large consumer of bandwidths. Optimization is possible from within and outside Flash MX, but not an end all solution. <
Conversely, Macromedia Director handles video quite well and without any of the limits plaguing Flash. It also imports far more formats than Flash MX. One common problem related to videos imported from within Flash MX is the synchronization of sounds with the images. When video files reach a certain size, their sound tends to lose their synchronization.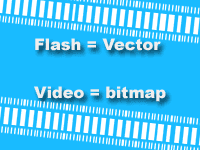 Flash MX is a vector-based program. Its player was designed to handle small sized data that 's processed locally on users' computers. Bitmap images don't do such "compression" of contents. Vector graphics are also lighter than bitmap ones. Vector graphics' resolutions are resolution independent. Their quality can be set locally when viewers set their playback quality.
Once a bitmap and therefore, a video is published, its quality cannot be set locally by the viewers. A possible alternative would be to load videos within a Macromedia Flash MX presentation, based on the bandwidth capabilities of the viewer's computer. However, videos cannot be loaded dynamically like text and sound files. One must always include the videos within presentations.
Since one can't load a movie dynamically, one must use Flash movie envelopes containing the video file. Once the viewer's preferences are determined, one must load a Flash movie with the appropriate size. Another solution is to use Flash Communication Server. It allows developers to load live video contents. However, it is beyond most developer's accessability.
Until Macromedia releases the next version of Flash MX, developers will have to continue to work creatively with video integration.
Coolstreak Cartoons Inc.
Copyright ® 2003. Use of material in this document®including reproduction, modification, distribution, electronic transmission or republication®without prior written permission is strictly prohibited.