About Toon Doctor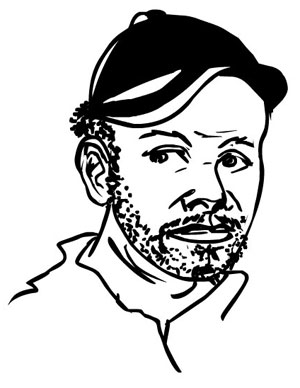 My favourite cartoons as child were reruns of Bob Clampett's Beanie and Cecil, and The Flintstones. A curious lad, drawing nonstop, I used to ask quirky questions to my parents such as "How do robots breathe?"
I am an assistant professor in emerging media at Université du Québec à Chicoutimi (UQAC).
Hervé St-Louis
I have an atypical background. I am an animator who became a researcher. Yet, it is not difficult to understand my journey from the cartoon world to human-computer interaction. The skills and aptitudes necessary to be a great cartoonist are the same as those needed for academic endeavours. Curiosity, passion for finding and understanding some form of truth, an open mind, thoroughness, patience, a willingness to work on obscure and sometimes repetitious tasks, a great sense of pattern recognition, observation, a capacity to focus for hours, and a quirky personality engaged with the world.
I was an animator first and became a user experience designer through exposure. As a kid, I was drawing cartoons and comics instead of doing my homework. When I discuss an app or an animation with a client or a peer, I visualize it as a hologram. I can see all the parts and their connections as a continuous flow. I create classical animation through Adobe Flash. For me storyboards, animation, user interface designs, comics, and flowcharts are similar forms of visual storytelling. I enjoy creating visual rhetoric for mobile apps, Web apps and cartoons.
The Company
Toon Doctor is my personal company. It was officially incorporated on March 14 2002, but started in September 2001. At first, an animation studio only, through experimenting and overlap with other projects, I've gotten hooked on doing Web projects and mobile apps. I'm great at solving problems and imagining new ways to do things.
For six years, Toon Doctor was my fulltime job and startup. That's when I created several Flash-related courseware, learning first hand about instructional design. In 2004, I brought ComicBookBin officially under Toon Doctor. It's a huge comic book news site I continue to publish. I'm located in Canada.
I use the formal last name "Saint-Louis" for my academic work. I use the colloquial "St-Louis" for non-academic pursuits.
When I chose the name Toon Doctor in 2001, I did not know that one day I would be a doctor doing research at a university. It's the best name for who I am, a cartoonist who is a researcher.
Skype "ToonDoctor"
Twitter @Toondoctor