About Toon Doctor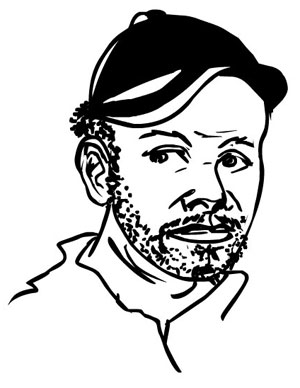 Toon Doctor is my personal company. It was officially incorporated on March 14 2002, but started in September 2001. At first, an animation studio only, through experimenting and overlap with other projects, I've gotten hooked on doing Web projects and mobile apps. I'm great at solving problems and imagining new ways to do things.
For six years, Toon Doctor was my fulltime job and startup. That's when I created several Flash-related courseware, learning first hand about instructional design. In 2004, I brought ComicBookBin officially under Toon Doctor. It's a huge comic book news site I continue to publish. I'm located in Canada.
Skype "ToonDoctor"
Twitter @Toondoctor
Hervé St-Louis
I was an animator first and became a user experience designer through exposure. As a kid, I was drawing cartoons and comics instead of doing my homework. When I discuss an app or an animation with a client or a peer, I visualize it as a hologram. I can see all the parts and their connections as a continuous flow. I create classical animation through Adobe Flash. For me storyboards, animation, user interface designs, comics, and flowcharts are similar forms of visual storytelling. I enjoy creating visual rhetoric for mobile apps, Web apps and cartoons.
Education
2012-2017 University of Toronto, PhD in Information Studies, Faculty of Information
2008-2011 University of Calgary, Master in Strategic Studies
2001 Concordia University, Certificate in Public Relations
1997 ICARI Diploma in 2D / 3D Animation, Animation
1993-1996 McGill University, Bachelor of Arts, History & Political Sciences
1991-1993 Vanier College, Diploma in Social Sciences
Awards
Alberta Graduate Student Scholarship
Arthur J.E. Child Memorial Master's Scholarship
FGS Scholarship
Security and Defence Forum Scholarship
Montreal Mayor's Award for Youth Entrepreneurship
Québec Multimédia Jeunesse
My Research
Although I've been calling myself Toon Doctor since 2000, I only gained an actual PhD in December 2017, after successfully defending my dissertation at the Faculty of Information at the University of Toronto, I research usable security, a branch of human-computer interaction. Usable security is about making the devices and apps that you use convenient, responsive, and safe.
I obtained my master's thesis from the Centre for Strategic and Military Studies at the University of Calgary. My thesis was about Twitter and the 2009 Green Revolution in Iran.
Dissertation
Saint-Louis, Hervé User Perceptions of Security Risks in Multiple Authentications. University of Toronto (2018): https://tspace.library.utoronto.ca/handle/1807/89824 (accessed July 19, 2018).
Keywords: authentication; commodification; confidentiality; human-computer interaction; privacy; usable security
Peer Reviewed Publications
Saint-Louis, Hervé "Can Someone Review My Web Comic? – Strategies to Evaluate and Criticize Web Comics" How To Analyze and Review Comics (2017). Chapter Accepted.
Saint-Louis, Hervé "Seamless and Always-on Security in a Bring-Your-Own-Application World - Paper Review" SERENE Digest (2016). Paper Accepted..
Saint-Louis, Hervé. 2015. "Ethnomethodology and Usable Security: The Value of Descriptive Research for Graduate Students." Workshop on Usable Security and Privacy Education. Carleton.
St-Louis, Hervé "Iranian Political Unrest in Cyberspace." Democracy & Society. 7. no. 2 (2010): 2-4. http://www.democracyandsociety.com/blog/wp-content/uploads/2010/07/StLouisIranCyberspace7.2.pdf (accessed March 8, 2013).
Conferences
November - 2016 Design Educators Conference
Presented "I Can't Draw: Tacit and Formative Learning versus Explicit and Summative Education" Humber College (2016). Peer selection.
May 2016 - CHI 2016 Workshop on Mid-Air Haptics and Displays
Sketchnote artist. San Diego, USA.
July 2015 - Symposium On Usable Privacy and Security (SOUPS)
Presented "Ethnomethodology and Usable Security: The Value of Descriptive Research for Graduate Students" Carleton University (2015). Peer selection.
March 2014 - Formation in Formation
Presented "Who Watches the Watchmen?: Detecting Presented "Marshall McLuhan as a War Philosopher" University of Toronto (2014). Peer selection.
February 2014 - The Strategic Studies and Security Consortium (S3C) 2014
Presented "Presented "McLuhan War Philosopher?" - University of Calgary (2014). Invited speaker.
August 2011 - Private Thesis Presentation at Twitter Headquarter, San Francisco Headquarter (2011)
Comments about @Twitter presentation
July 2011 - The 12th International Pragmatics Conference
Presented "Strategic Studies and Cyberspace: Iranian Political Unrest on Twitter" - University of Manchester (2011)
February 2010 - The Strategic Studies and Security Consortium (S3C)
Presented "Iranian Political Unrest in Cyberspace: Contesting Presidential Elections on Twitter" - University of Calgary (2010)
December 2009 - Democrats, Dictators and Demonstrators: Sharing Strategies for Repression and Reform
Presented "Iranian Political Unrest in Cyberspace" -Georgetown University's Center for Democracy & Civil Society (2009)