Comics / Bandes dessinées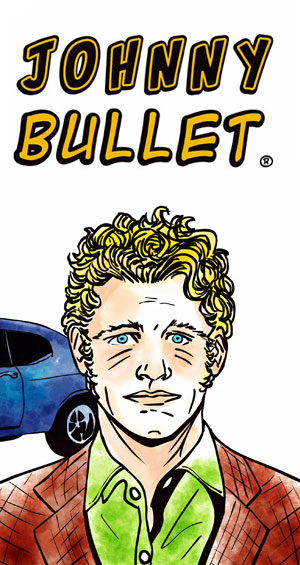 Johnny Bullet est une bande dessinée crée par Hervé St-Louis.
Johnny Bullet is a comic created by Hervé St-Louis.
Johnny Bullet in English
A man and his ride



Set in the 1970s muscle-car obsessed America, professional drag racer Johnny Bullet escapes from Mt. Rushmore to Cross Roads, Tennessee following the death of his long-time friend and mechanic in a suspicious car crash. Even in a small town like Cross Roads, Johnny cannot escape the spotlight, and quickly it turns him into a target. Will Johnny steer through the messy small-town politics and nonstop street racing in time to find out the rational behind the murder?



Originally published online, Johnny Bullet reads like a classic newspaper adventure comic strip. Johnny doesn't solve crime through fancy heroics. He wins through racing and fist fights. The strip is a must for fans of muscle cars, auto racing, and old school adventure.

Buy Johnny Bullet in English



Johnny Bullet en français
Un homme et sa bagnole



L'histoire principale se déroule en 1974. Johnny Bullet est pilote automobile et cascadeur. L'intrigue est lancée dès les premières pages. Son mentor le remplace dans une cascade, perd le contrôle et meurt dans un accident. Johnny réalise rapidement que la voiture a été sabotée. Néanmoins, il s'enfuit subitement dans le Sud des États-Unis pour participer à un concours. Mais durant sa route, il trouvera sur son chemin quelques entraves et des pilotes de bagnoles qui le mettent au défi. Le tout semble relié, mais ne sait pas trop, car Johnny Bullet est vite jeté en prison!

Johnny Bullet est pour le lecteur de bandes dessinées qui veut essayer quelque chose de différent mais avec un certain classicisme. C'est une bédé qui emprunte la simplicité d'une époque antérieure avec un traitement contemporain. C'est ce que je nomme de la bande dessinée néoclassique. Comme d'autres mouvements néoclassiques, cette bande dessinée intègre les formes stylistiques du passé dans un cachet postmoderne.

Achetez Johnny Bullet en français