Johnny Bullet Web Comic Strip
Client : None
Format : Drawn with Flash, Painter
Project Type : Comic strip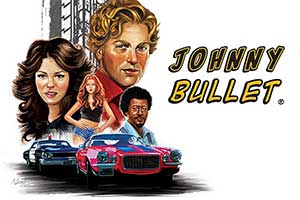 I started posting Johnny Bullet Web comic strip in 2014 after having withheld from any comic book project in years. Although I have limited time, I have found a way to schedule this adventure comic strip in my life. I update it every Sunday at my other Website ComicBookBin. Working on Johnny Bullet has been a lot of fun and stress relief as it's pure creative venture done for the sake of a love for cartoons.
"Johnny Bullet is a tough guy. He's brave. He's clever and he drives muscle cars for a living. Sometimes (okay, most of the time), he solves crimes. Johnny Bullet is a newspaper style action adventure comic with a retro 1970s feel. The story and art pay homage to that vintage. An action adventure hero, Johnny Bullet is a stunt driver, a racing car driver. He doesn't have any ulterior motives or a dark side. He's just a good guy wanting to do the right thing to the best of his abilities. Always active, he's always punching and smashing into things and driving fast cars."
@ozoneocean (Michael John Morris), The Drunk Duck.
Johnny Bullet est un dur à cuire. Il est courageux. Il est intelligent et pilote de bagnoles musclées. Parfois (OK, la plupart du temps), il résout des intrigues. Johnny Bullet est une bande dessinée d'aventure journalière avec une sensation rétro des années 1970. L'histoire et le dessin rendent hommage à cette époque. Aventurier, Johnny Bullet est cascadeur et pilote de voiture de course. Il n'a pas de motifs secrets ou de côté sombre. Ce n'est qu'un bon gars qui fait le mieux qu'il peut. Toujours actif, au coup de poing facile, il défonce tout au volant de chars rapides. On peut évidemment lire Johnny Bullet en français.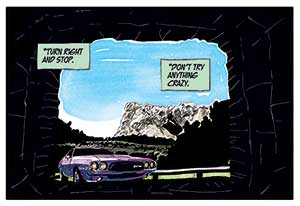 Media Coverage

Webcomic Wednesday Review: Johnny Bullet
Aaron Sullivan, Comic Crusaders

Webcomics Weekly: Johnny Bullet
Alex K Cossa, Graphic Policy

Hervé St-Louis aime l'action américaine rétro
Manon Bodel, L'Express, Toronto, Canada

Featured Comic --> Johnny Bullet
Michael John Morris, The Drunk Duck

Webcomics Wednesday: IA & UX
by Sean Kleefeld, Freaksugar

Tap-Vision: Johnny Bullet Review
Johnny Bullet review, Melissa J. Massey, Tap-Vision