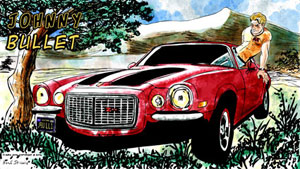 Buy Johnny Bullet Digital #1, $2.99
Johnny Bullet is a comic created by Hervé St-Louis.

Re-lettered, partly redrawn, and in a huge file, read the first issue of Johnny Bullet as it was meant to be enjoyed, with a huge canvas, including a bonus page not published in the web comic.
$2.99
Johnny Bullet Digital includes the following:
Strips #1 to 22
Re-lettered comic
Several panels redrawn
Johnny Bullet Strip Bonus #00
Canvas size 17x11 inches
23 pages, black and white
A link to the comic will be sent to you by email once the purchase through Paypal is completed.
Johnny Bullet
Logline

A brash but clever professional drag racer gets embroiled in local street racing and small town politics after evading the suspicious murder of his best friend.

Synopsis

It's all about the race for 1970s professional drag racer Johnny Bullet. When he isn't racing or performing movie stunts, he's street racing across America. Dodging villains and chasing women, few can catch up to him. Always riding, Johnny can hardly stay put. He's running from himself and others.

Audience

The strip is a must for fans of muscle cars, auto racing, and old school adventure. The series is for an all-age audience.
A Man and His Ride
Production Timeline

Chapter one (strips 1-22) introduces Johnny's world, and teenaged origin. In chapter two (strips 23-44), Johnny street races against the Leduc brothers in Cross Roads. Chapter three (strips 45-66) jumps into the Cross Roads intrigue. In chapter four (strips 67-88), Johnny races out of trouble- and out of Cross Roads. The series will be completed and coloured before being released for print.

Setting

America's obsession with muscle cars was changing in the 1970s. The post 1973 Oil Crisis cost of gas, increased insurance premiums, underperforming cars, and bad press transformed street and drag racing from mainstream culture into fringe and expensive lifestyles. Johnny navigates through this changing world in a storyline set between Mt. Rushmore, South Dakota, and Cross Roads, Tennessee.