Buy Johnny Bullet Digital #1, $2.99
Issue One introduces Johnny's world, and teenaged origin.
Strips #1 to 22, plus bonus #00
23 pages, black and white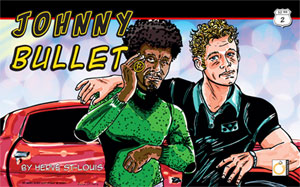 Buy Johnny Bullet Digital #2, $2.99
In Issue Two, Johnny street races against the Leduc brothers in Cross Roads.
Strips #23 to 44 plus bonus #01
23 pages, black and white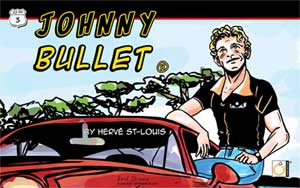 Buy Johnny Bullet Digital #3, $2.99
The mysterious Mr. Bacon and the beautiful Maggie Leduc interfere in Johnny Bullet's stay in Cross Roads.
Strips #45 to 66 plus bonus #02
23 pages, black and white
Buy Johnny Bullet Digital #4, $2.99
Johnny Bullet's adventure in Cross Roads, Tennessee ends as he faces the major antagonist who is responsible for bringing him in for the pageant show while facing the Leduc Brothers.
Strips #67 to 88 plus bonus #03
23 pages, black and white
Johnny Bullet



Johnny Bullet is the first comic book series that I have released publicly. I have been creating comics since I was six-years-old but never shared them with the public. I lost all my animation and comic drawings in the 2013 Calgary flood. Thus, without a physical portfolio, I created Johnny Bullet in 2014. Johnny Bullet is inspired by the classic Frank Frazetta Johnny Comet comic strip and by the late-actor Steve McQueen who was an avid racer and adventurer. This comic has been very important for me since and given my life much balance. I draw Johnny Bullet weekly and release most pages as a webcomic at ComicBookBin.com.
I have compiled, cleaned up, and re-lettered the first issue/chapter of Johnny Bullet and am releasing it as a digital comic. In this story, I introduce readers to Johnny Bullet's world and his first racing adventure as a teenaged racer. I am currently drawing issue seven of Johnny Bullet and intend to eventually release all issues in a series of books in colour. With Johnny Bullet, I am rebuilding my lost portfolio and engaging with a comic strip that I can easily see myself drawing for the rest of my life.
A Man and His Ride
Logline

A brash but clever professional drag racer gets embroiled in local street racing and small town politics after evading the suspicious murder of his best friend.

Synopsis

It's all about the race for 1970s professional drag racer Johnny Bullet. When he isn't racing or performing movie stunts, he's street racing across America. Dodging villains and chasing women, few can catch up to him. Always riding, Johnny can hardly stay put. He's running from himself and others.

Protagonist

26-year-old daredevil Johnny Bullet is obsessed with riding muscle cars. Except when it's racing-related, Johnny seems to run away from responsibilities such a finances and relationships. He prefers smashing into things and street racing without thinking about the consequences of his actions.

Audience

The strip is a must for fans of muscle cars, auto racing, and old school adventure. The series is for an all-age audience.

Setting

America's obsession with muscle cars was changing in the 1970s. The post 1973 Oil Crisis cost of gas, increased insurance premiums, underperforming cars, and bad press transformed street and drag racing from mainstream culture into fringe and expensive lifestyles. Johnny navigates through this changing world in a storyline set between Mt. Rushmore, South Dakota, and Cross Roads, Tennessee.

A link to the comic will be sent to you by email once the purchase through Paypal is completed.