Toon Doctor ® MX 101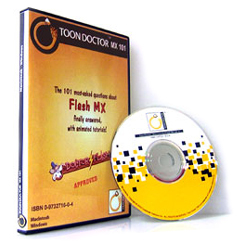 Toon Doctor ® MX 101
Because there are no books to read, Toon Doctor ® MX 101 saves you time and effort. Answers are always a few clicks away. To shorten your development process, we've even included the original royalty free Flash projects with each tutorial.
Organized by topics in a clear and easily accessible interface, Toon Doctor ® MX 101 lets you learn and practice at your own pace.
System Requirements
64 MB of free available system RAM (128 MB recommended)
15 MB of available disk space
1024 x 768, 16-bit (thousands of colors) color display or better
CD-ROM drive
Flash Player
Current Browser
Adobe® Flash®
Mac OS or Windows
Publisher's comments
Many people who have used the Toon Doctor ® MX 101 tutorials were surprised by their contents. They thought that they were quite familiar with Flash, but it turns out they could still learn lots tricks from Toon Doctor ® MX 101.